Mobile Service at Wesley Chapel Toyota

Your Way to the Driveway brings the auto shop to your home.
Our mobile service vehicles provide maintenance services wherever you are.
During your service day:
While you're busy with your normal routine, our professionally trained and certified technicians are taking good care of your vehicle.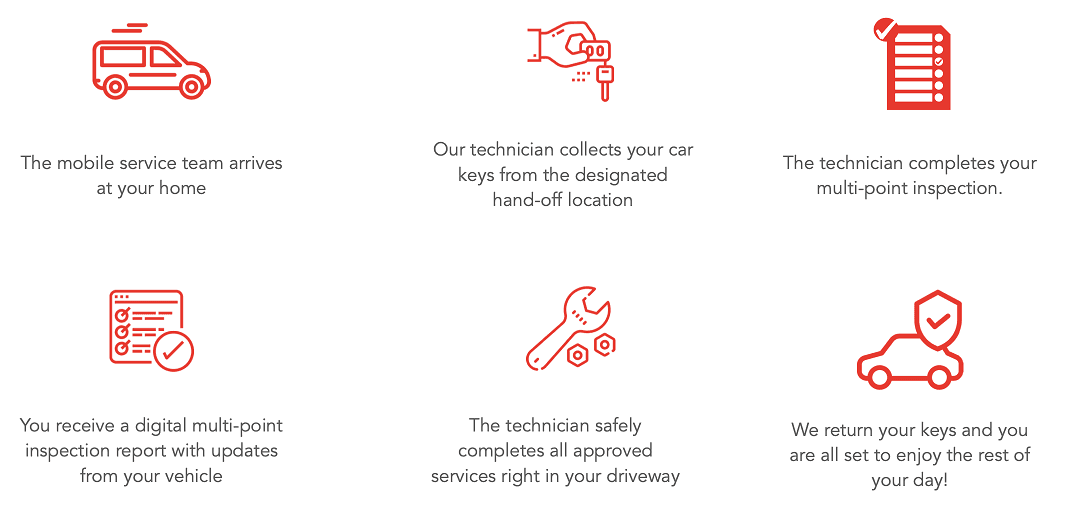 We get to look under the hood. Why shouldn't you?
Your Way to the Driveway's Digital Health Report helps you get a pulse on your car. You get a condition report (with photos) for each of the most important parts and systems in your vehicle.
We only recommend additional services when items are below industry standard specifications.

We only perform services that you approve.
Frequently Asked Questions
How does the technician get my keys?
When scheduling your service, there is a note section that you can fill out. It will let our technicians know where they can find
your keys on the day of service. If not, our customer experience team will reach out on the day of service and coordinate with
you directly. Typically customers will hide the vehicles key nearby. Some ideas are:
• On the vehicles tire
• Above the sun visor
• In the gas cap
• Under a flower pot
• Underneath the welcome mat
• Or you can just hand it to our technicians when they arrive at your house!
What do we need when onsite?
In order to preform services safely and effectively, our technicians ask for:
• A relatively flat hard surface that the technician can preform services on. Typically a slope of 5° or less
• 2 feet of clearance around the whole car to ensure sufficient technician access.
• A space to park our mobile service vehicle nearby
• Permission to use this area. Servicing vehicles on a busy street is dangerous for our technicians and your vehicle.
When it comes to utilities, we don't need much! Each mobile service vehicle is completely self-sufficient and carries its own
power, water, disposal, tools and emergency supplies.
How do you prevent against spills? What do you do with the waste?
The service is completely self-contained with a certified containment area. Any and all liquids removed from your vehicle('s)
are taken off site and recycled according to the applicable state laws. Each service vehicle is fully equipped with emergency
spill clean up.